A gathering of thought leaders, inspirational figures, and movers and shakers who will share their thoughts about the future and what it would take to get there.
A by-invite only C-suite gathering for AV and IT channel market players highlighting strategic issues and key technology trends.
Designed specifically for project and mid-level managers to deep-dive into solving day-to-day challenges in the form of quick-fire discussions between industry peers and market experts.
Combining knowledge exchange with experience and networking, this program comprises focus group dialogues, show floor tours and outbound site visits.
AV technical personnel and professional end-users from various industries can learn technical skills and knowiedge directly from experts from AVIXA, the organization representation Pro-AV and Integrated Experience Solutions professionals worldwide.
Designed for AV professionals of all ages and experience levels, these 20-minute sessions about hot topics in the industry include short excerpts from AVIXA courses with practical, applicable ideas and skills.
industry Forums hone in on major industry projects in Asia, as well as factors impacting the industry. Presentations will also include the developments of AV in the industries, as well as new technologies that will affect the industry in the near future.
Here is the agenda for 2022 webinar. The agenda for 2023 webinar will be updated soon. Please stay tuned.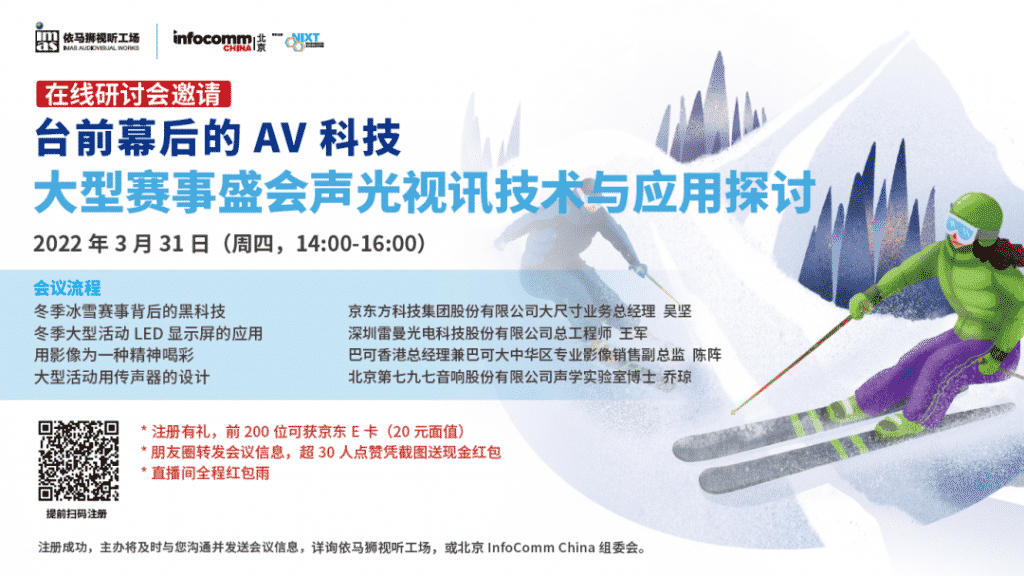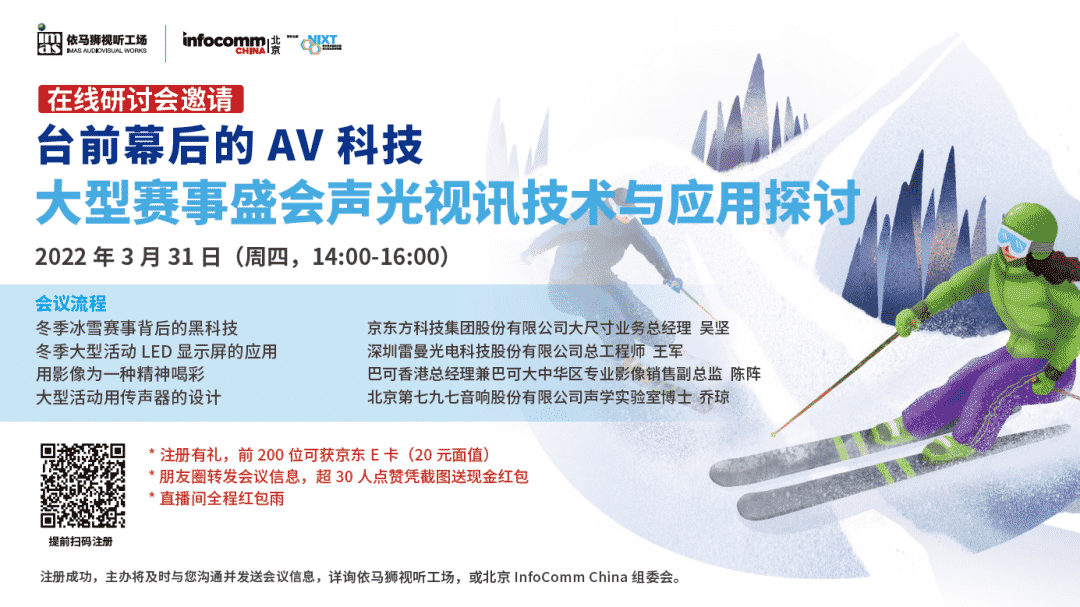 本次研讨会我们邀请了业内具备大型赛事盛会活动服务经验的资深专家、厂家和集成商代表,和大家一起探讨盛会幕后的声光视讯技术与应用。我们也相信,AV科技在盛会中的典型应用,必将给社会和行业带来巨大的示范效应,并推动本地市场跨越式发展进步。
时间
议程
13:45 – 14:00
签到
14:00 – 14:10
开场,主持人对会议主题、目的及嘉宾介绍
14:10 – 14:35

冬季冰雪赛事背后的黑科技

京东方科技集团股份有限公司大尺寸业务总经理 吴坚

14:35 – 15:00

冬季大型活动LED显示屏的应用

深圳雷曼光电科技股份有限公司

总工程师  王军

15:00 – 15:25

用影像为一种精神喝彩

巴可香港总经理兼巴可大中华区专业影像销售副总监 陈阵

15:25 – 15:50

大型活动用传声器的设计

北京第七九七音响股份有限公司声学实验室博士 乔琼

15:50 – 16:00
提问、互动环节

请扫码观看回放
2022年4月21日(星期四) 14:00 – 16:00
MANA全球新媒体艺术平台和北京InfoComm China联合主办
本次网络研讨会,以主题演讲+圆桌讨论的形式组成,邀请多位来自不同领域的科技艺术创作团队代表,及具备前沿创新技术硬件设备的北京InfoComm China 2022参展厂商,帮助业内伙伴多维度、多视角探究科技艺术如何打造现象级IP。
时间

议程

14:00-14:05

开场,主持人对会议主题、目的及嘉宾介绍

14:05-14:10

主办单位致词

14:10-14:25

以科技艺术打造中国文化记忆 – 北京东奥会开幕式幕后故事

江珊

新媒体艺术家; 黑弓Blackbow宣发总监兼艺术策划

14:25-14:40

文化遗产的数字化演绎

费俊

中央美术学院设计学院艺术与科技方向教授、博士生导师

某集体ART+TECH创始人、创意总监

14:40-14:55

《面向数字化时代的舞台空间》

任冬生

北京舞蹈学院青年舞团副团长、硕士生导师

国家一级舞美设计

14:55-15:10

《沉浸式体验IP的创造者》

李斌

上海丽昂数字科技有限公司总经理

15:10-15:50

圆桌对谈

井婉 研讨会主持人

MANA全球新媒体艺术平台创作者运营总监、上海超自然文化科技有限公司创意策划总监

嘉宾:

王桐

松下电器(中国)有限公司

系统投影解决方案营销公司课长

张武麟

深圳市联建光电股份有限公司

产品中心总监

江珊

新媒体艺术家; 黑弓Blackbow宣发总监兼艺术策划

费俊

中央美术学院设计学院艺术与科技方向教授、博士生导师

某集体ART+TECH创始人、创意总监

任冬生

北京舞蹈学院青年舞团副团长、硕士生导师

国家一级舞美设计

李斌

上海丽昂数字科技有限公司总经理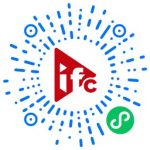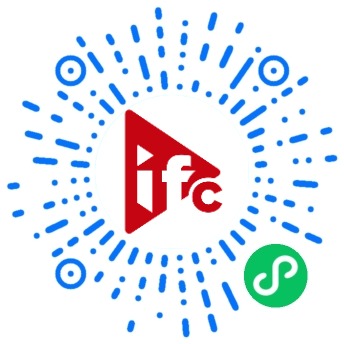 请扫码登记


2022年5月26日(星期四) 14:00 – 16:00
智能头条  智能家居全媒体平台和北京InfoComm China联合主办
新零售是最近两年重点热度话题之一,其线上流量与线下转化的高效结合不仅颠覆了传统零售的 "弱连接"痛点,更带来了售后与服务模式的全新升级。针对企业拓展新零售的发展格局、数字技术催生的新型销售模式及需求端的创新服务日益升级等热点问题,智能头条与北京InfoComm China特别共同举办"2022新零售智慧商业云峰会",邀请多位重量级嘉宾,为行业带来最前沿的观点分享与思想碰撞。
时间

议程

14:00-14:15

开场,主持人对会议主题、目的及嘉宾介绍

主办单位致词

14:15-15:15

圆桌论坛

李媛 图桌论坛主持人

智能头条  智能家居全媒体副总编

王伟

青岛海信激光显示股份有限公司 副总经理

裴晓俊

MAXHUB新零售事业部 总经理

卜德法

深圳创维-RGB电子有限公司 新零售前装中心总经理

游遇

华云智家总经理

杨威华

河南智空间科技有限公司总经理

15:15-15:30

海信激光的零售新生态

王伟

青岛海信激光显示股份有限公司 副总经理

15:30 – 15:45

零售行业如何获好"屏"

裴晓俊

MAXHUB新零售事业部 总经理

15:45 – 16:00

新零售时代 场景为王

卜德法

深圳创维-RGB电子有限公司 新零售前装中心总经理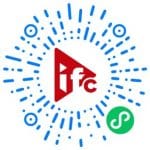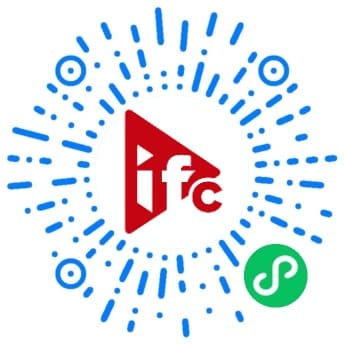 请扫码观看回放
北京InfoComm China 2022学习平台
在北京InfoComm China学习平台上发表演讲